Call for Papers & Presentation Guidelines
Presentation Guidelines
-Oral Presentation
Length of presentations:
Plenary / Tutorial 45 minutes (introduction and 40 min talk)
Keynotes 40 minutes (introduction, 30 min talk, Q&A)
Other orals 20 minutes (15 min talk, Q&A)
Please adhere strictly to the start and finish times of the presentation. You should arrive in the session room 30 minutes before the start of your session.
Computer Data Projection
In order to avoid trouble arising from software incompatibility, the organizing committee recommends speakers to use their own laptop computer with an analog VGA (mini D-SUB 15 pin) connector for data projection. Please bring the AC 100V power adaptor for your computer. A VGA cable will be available to use.
Please bring your computer or USB flash drive with you to the session room 30 minutes before the start of your session and make sure you have tested your data projection in advance. Please visit the Speaker Preview Room one day before if you are using a USB flash drive. (See below for more details)
Please turn off the sleep-mode and screen saver of your computer prior to your presentation. The computer must be kept powered-on and AC 100V power supplied throughout the session to avoid any trouble.
All the meeting rooms are equipped with one projector that can be connected to either your laptop or a conference PC (for USB flash drive users). The data on the USB flash drive must be compatible with either the English version Power Point (2007, 2010) or Adobe Reader (ver. 10) on the Windows 7 conference PC.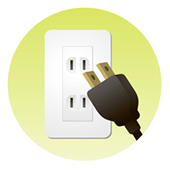 Speaker Preview Room
Please check the compatibility of your data with the conference projection system in advance to ensure that your presentation can be correctly displayed. Speakers are fully responsible for the functionality of their presentations. If you bring a USB flash drive containing your presentation, please visit the Speaker Preview Room one day before. The Speaker Preview Room is Room 104 on the 1st floor.
A technician in the Speaker Preview Room (Room 104 on the 1st floor) may assist you to solve problems that you may have with your presentation.
Opening Hours:
Sunday, 16th September
13:00-17:00
Monday, 17th September
08:00-17:00
Tuesday, 18th September
07:30-18:00
Wednesday, 19th September
Thursday, 20th September
-Poster Presentations
There will be poster sessions from Monday to Thursday. Authors of odd-numbered posters will present during the first core time (11:10 to 12:20), authors of even-numbered posters will present during the second core time (13:30 to 14:40). Authors must be present at their posters during the core time. Authors have to wear a"presenter badge". Presenter badges are available at the poster reception desk located at the entrance to the Event hall. Poster boards are labeled with the number corresponding to the last three digit of presentation number in the Final Program. All posters must be set up before 08:00 from Monday through Thursday. Mounting time is from 7:30 to 8:00 and removal time is 17:00 to 17:30 from Monday through Thursday. After removal time organizers are not responsible for returning posted material to the authors.
Poster board specification: 1.80 m wide and 1.2 m high. Pushpins should be attached to the poster board for you to use and are also available at the poster reception desk.
Poster Mounting time
7:30-8:00
Poster Core Time
Odd-number
11:10-12:20
Even-number
13:30-14:40
Poster Removing time
17:00-17:30
CALL FOR PAPERS
Abstract submission has been closed.
We thank all the authors for their contribution.
ABSTRACT SUBMISSION GUIDELINES
Abstracts can only be submitted via the conference website. Abstracts sent by mail, FAX or email will not be accepted.
Submitted abstracts will be reviewed for oral presentations or poster presentations and should be prepared by following the instructions listed below.
An individual may submit only one abstract and may present only one paper at the conference, but may re-appear as a co-author of papers submitted by others.
The presenting author must complete a pre-registration for the conference before submitting an abstract.
Abstracts must be prepared in English. The body of abstract should not exceed 600 words in length. The title of presentation must be limited to 20 words. No chart and graphics should be included in the abstract.
When submitting your abstract, please follow the guidelines given on the abstract submission form. Abstracts will be published as submitted; thus, any error that appears in the submitted abstract will appear in the published abstract.
Once your abstract has been successfully submitted, you will receive a confirmation by email. You can modify your abstract on-line until April 27, 2012 by logging in with your ID and password.
Abstracts will be peer-reviewed by the Program Committee.
Each presenting author will be notified by e-mail at the end of June 2012 whether his/her abstract has been accepted for presentation or not.
In case a submitted paper is declined by the program committee and that prevents the presenting author's participation to the conference, the presenting author can request full refund of his/her registration fee with no administration fee subtracted regardless of the cancelation policy posted on the conference website. A written request for the refund must be received by the conference secretariat by August 20, 2012.
All the accepted abstracts will be published on the conference website on July 6, 2012. They will also appear in the electronic materials (USB or CD) distributed at the conference.